Cardfight!! Vanguard V Special Series 01 (V-SS01):
Premium Collection 2019
[
Premium Collection 2019
]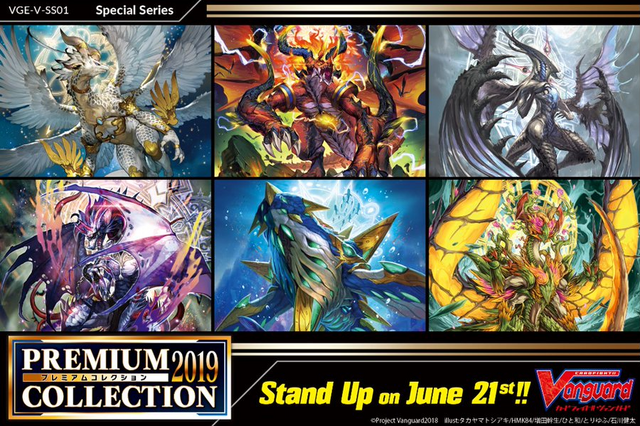 Official Release Date:
[Japanese Edition] 17th May 2019
[English Edition] 21st June 2019
[Pre-Release at Event] 2nd May 2019 to 4th May 2019
Total Number of Cards:
54
Rarities:
SGR:
6
GR:
6
RRR:
24
RR:
24
Features:
-
Premium Collection 2019
is the
1st
V Series Special Series released in the Japanese and English format.
- Focusing on the Premium Standard format with new G units for clans and nations, similar to Fighter's Collection.
- There will be 3 cards per pack; there will be 10 packs per box.
- This set will only be sold in box and not in carton.
- Includes support for the all
24
clans
(excluding Touken Ranbu, Cray Elemental and Etranger)
.
- There will be 6 Nation Stride unit, similar to Zeroth Dragon, and will be having the SGR/GR rarity!
- Each box will come with 1 of the following 4 Promos:
- Only during the Event, Big Vanguard x Buddyfight Festival 2019, each box will come with 1 exclusive promo (total: 4 types):
:: Cardlist ::

V-SS01/001 (V-SS01/S01)

Progenitor Dragon of Total Purity, Agnos

(至純の原初竜 アグノス)

United Sanctuary/Cosmo Dragon/United Sanctuary

G/4/Triple Drive!!/15000+/-/1

[

Stride

]-Stride Step-

COST

[

Discard a card with the same name as a card on your [

V

]

], [

Stride

] this card on your [

V

] from face down.

CONT

[

G zone

]: This card cannot be turned face up by abilities. If this card is face up, you can [

Stride

] without paying the [

Stride

] cost.

AUTO

[

V

]:

When placed

,

COST

[

C-

Blast

(1)

&

S-

Blast

(1)

], call as many cards from your hand to all [

R

] as possible, and draw three cards.

GR / SGR

V-SS01/002 (V-SS01/S02)

Progenitor Dragon of Lightning Flame, Gilgal

(炎雷の原初竜 ギルガル)

Dragon Empire/Flame Dragon/Dragon Empire

G/4/Triple Drive!!/15000+/-/1

[

Stride

]-Stride Step-

COST

[

Discard a card with the same name as a card on your [

V

]

], [

Stride

] this card on your [

V

] from face down.

CONT

[

G zone

]: This card cannot be turned face up by abilities. If this card is face up, you can [

Stride

] without paying the [

Stride

] cost.

AUTO

[

V

]:

When placed

,

COST

[

C-

Blast

(2)

&

S-

Blast

(1)

], and until end of turn, this unit battles all of your opponent's units in one attack, and gets [Power] +10000 and

"

AUTO

[

V

]: When its attack hits, [

C-

Charge

(1)

]."

.

GR / SGR

V-SS01/003 (V-SS01/S03)

Progenitor Dragon of Horizon Limit, Origorem

(天涯の原初竜 オリゴレーム)

Star Gate/Space Dragon/Star Gate

G/4/Triple Drive!!/15000+/-/1

[

Stride

]-Stride Step-

COST

[

Discard a card with the same name as a card on your [

V

]

], [

Stride

] this card on your [

V

] from face down.

CONT

[

G zone

]: This card cannot be turned face up by abilities. If this card is face up, you can [

Stride

] without paying the [

Stride

] cost.

AUTO

[

V

]: When it attacks,

COST

[

C-

Blast

(1)

], and increase or decrease the [Power] of all of your opponent's units to 0 until end of turn.

GR / SGR

V-SS01/004 (V-SS01/S04)

Progenitor Dragon of Gloomy Dark, Formido

(幽闇の原初竜 フォルミード)

Dark Zone/Abyss Dragon/Dark Zone

G/4/Triple Drive!!/15000+/-/1

[

Stride

]-Stride Step-

COST

[

Discard a card with the same name as a card on your [

V

]

], [

Stride

] this card on your [

V

] from face down.

CONT

[

G zone

]: This card cannot be turned face up by abilities. If this card is face up, you can [

Stride

] without paying the [

Stride

] cost.

AUTO

[

V

]:

When placed

,

COST

[

C-

Blast

(1)

], your opponent chooses the same number of his or her rear-guards as the number of your open [

R

], and retires them. If three or more were retired, you [

S-

Charge

(5)

], and draw a card.

GR / SGR

Progenitor Dragon of Deep Sea, Balanerena

(溟海の原初竜 バランエレナ)

Magallanica/Tear Dragon/Magallanica

G/4/Triple Drive!!/15000+/-/1

[

Stride

]-Stride Step-

COST

[

Discard a card with the same name as a card on your [

V

]

], [

Stride

] this card on your [

V

] from face down.

CONT

[

G zone

]: This card cannot be turned face up by abilities. If this card is face up, you can [

Stride

] without paying the [

Stride

] cost.

AUTO

[

V

]: When your opponent's guardian is placed,

COST

[

discard a grade 1 or less card from your hand

], and retire that guardian.

GR / SGR

Progenitor Dragon of Regal Birth, Megaloma

(降誕の原初竜 メガローマ)

Zoo/Forest Dragon/Zoo

G/4/Triple Drive!!/15000+/-/1

[

Stride

]-Stride Step-

COST

[

Discard a card with the same name as a card on your [

V

]

], [

Stride

] this card on your [

V

] from face down.

CONT

[

G zone

]: This card cannot be turned face up by abilities. If this card is face up, you can [

Stride

] without paying the [

Stride

] cost.

AUTO

[

V

]:

When placed

,

COST

[

discard two cards from your hand

], and for one time during the next turn, when you would lose, return all of the cards from your hand and damage zone to your deck and shuffle it, and put five cards from the top of your deck into your damage zone, and end that turn instead.

(Perform all effects and rule actions)

GR / SGR

Twin Absolute Divine Knight, Saint of Twin Sword

(双絶の聖騎士 セイント・オブ・ツインソード)

United Sanctuary/Human/Royal Paladin

G/4/Triple Drive!!/15000+/-/1

[

Stride

]-Stride Step-

COST

[

Choose one or more cards with the sum of their grades being 3 or greater from your hand, and discard them

], [

Stride

] this card on your [

V

] from face down.

AUTO

[

V

]: When it attacks a vanguard while boosted,

COST

[

C-

Blast

(1)

& turn a card in G zone face up

], search your deck for up to two grade 2 cards, call them to [

R

], and shuffle your deck.

AUTO

[

V

]: When your rear-guard is placed from deck, that unit gets [Power] +5000 until end of turn for each face up card in your G zone.

RRR

V-SS01/008

Abundant Water Honorable Deity, Ichikishima

(豊水尊神 イチキシマ)

United Sanctuary/Noble/Oracle Think Tank

G/4/Triple Drive!!/15000+/-/1

[

Stride

]-Stride Step-

COST

[

Choose one or more cards with the sum of their grades being 3 or greater from your hand, and discard them

], [

Stride

] this card on your [

V

] from face down.

ACT

[

V

] [

1/Turn

]:

COST

[

C-

Blast (1)

& turn a card in your G zone face up

], draw a card, until end of turn, your opponent cannot use

AUTO

ability of guardians, and this unit gets

"

CONT

[

V

] Oracle: All your front row units get [Power] +2000 for each card in your hand."

.

CONT

[

G zone

]: If this card is face up, when counting the number of cards in your hand, count the face up cards in your G zone as well.

RRR

Evangel Seraph, Raphael Mitra

(福音熾天使 ラファエル・ミトラ)

United Sanctuary/Angel/Angel Feather

G/4/Triple Drive!!/15000+/-/1

[

Stride

]-Stride Step-

COST

[

Choose one or more cards with the sum of their grades being 3 or greater from your hand, and discard them

], [

Stride

] this card on your [

V

] from face down.

ACT

[

V

] [

1/Turn

]:

COST

[

C-

Blast

(3)

& turn a card in your G zone face up

], discard two cards from your hand, and heal two cards from your damage zone.

RRR